Eric Anderson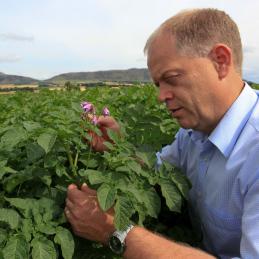 Senior Agronomist for Scottish Agronomy
Scottish Agronomy
Senior Agronomist for Scottish Agronomy providing strategic potato consultancy and applied research to a large, UK-wide client base. Leads delivery of technical communication activities for potato grower groups across Scotland, growing >8,000 ha of seed and ware potatoes. University of Aberdeen BSc (Hons) in Agriculture 37 years ago. Career includes positions with ADAS (England) and SAC Consulting (Scotland).   
Publications
In 2022 a field trial was established which aimed to provide information on the integrated control of Globodera pallida. This report publishes the results of the field trial planted at Barnyards Farm on 02/05/2022 - a location with a moderate-high PCN population. The trial consisted of 11 potato varieties (Cara, Maris Peer, Elland, Innovator, Eurostar, Buster, Amanda, Karelia, Cinderella, Lanorma, and Tyson) with varying levels of resistance to both G. Pallida and G. Rostochiensis (Table 1). Replicates of each variety were treated with either Nemathorin 10G (30 kg/ha, a.i. Fosthiazate) or left untreated.
A summary report of progress made across the work packages addressed by the PCN working group in year one.