Dr Philip Burgess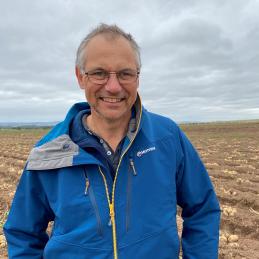 Leader of scottishpotatoes.org
Phil leads scottishpotatoes.org which is a partnership of SRUC, The Hutton and SASA, the purpose of which is to support the Scottish potato industry through the promotion and translation of research and technological innovations. In his role as lead consultant and researcher for scottishpotatoes, he aims to bridge the gap between researchers and on farm consultancy. A pathologist by training, his career has spanned both research and commercial production of seed and ware potatoes.
Publications
In 2022 a field trial was established which aimed to provide information on the integrated control of Globodera pallida. This report publishes the results of the field trial planted at Barnyards Farm on 02/05/2022 - a location with a moderate-high PCN population. The trial consisted of 11 potato varieties (Cara, Maris Peer, Elland, Innovator, Eurostar, Buster, Amanda, Karelia, Cinderella, Lanorma, and Tyson) with varying levels of resistance to both G. Pallida and G. Rostochiensis (Table 1). Replicates of each variety were treated with either Nemathorin 10G (30 kg/ha, a.i. Fosthiazate) or left untreated.
A summary report of progress made across the work packages addressed by the PCN working group in year one.